First Documentary Special: Marche: Land of Magic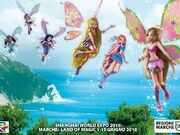 Marche: Land of Magic is the title of the first Winx documentary. This special is a Rainbow Srl production for the World Expo 2010 at Shanghai
Plot
The Winx have been granted the honor as well as the pleasure to present the Regione Marche to the visitors of the Italian Pavilion at the Universal Expo in Shanghai. In 2010 the goal was to present to the thousands of visitors the beauty of landscapes, the story of renowed characters and the entrepreneurial excellencies of the Regione Marche.
The six fairies have been integrated in the live action shooting of the most beautiful locations of Marche obtaining an even more spectacular result thanks to the use of the stereoscopic 3D projected on the big screen.
Second Documentary Special: Le Magie del Mare: Alla Scoperta delle Aree Marine Protette con le Winx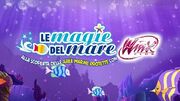 Le Magie del Mare: Alla Scoperta delle Aree Marine Protette con le Winx is the second documentary special. This special is a Rainbow CGI coproduction with Fondazione Symbola, Parco Nazionale del Cilento, Vallo di Diano e Alburni, Ente gestore delle AMP of "Santa Maria di Castellabate" and "Costa degli Infreschi e della Messeta".
Plot
In this underwater documentary, the discovery of marine protected areas with Winx Club, the campaign for the promotion and protection of marine and coastal parks.
Ad blocker interference detected!
Wikia is a free-to-use site that makes money from advertising. We have a modified experience for viewers using ad blockers

Wikia is not accessible if you've made further modifications. Remove the custom ad blocker rule(s) and the page will load as expected.