Which is Witch?
General Information
Type
English Live Action

French Live Action

Created by
Moi j'aime la télévision, I Love Television, Genao Productions, Be-Films
Years on Air
2013-2014
Episodes
26

French Title: Sorcières, mais pas trop !
Plot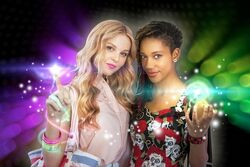 Jack Hooper fancies himself as the next big thing, on his way to Pop stardom. But right now he's just another 16-year-old with big dreams struggling to survive High School. That is, until a young Witch and a teenage Fairy come crashing into his life!
In Which is Witch?, two story worlds collide – magic mirrors meet teenage acne. Cheerleaders date frogs. Love potions and poisoned apples lead to crazy teenage situations.
Ad blocker interference detected!
Wikia is a free-to-use site that makes money from advertising. We have a modified experience for viewers using ad blockers

Wikia is not accessible if you've made further modifications. Remove the custom ad blocker rule(s) and the page will load as expected.