Super Inday and the Golden Bibe (1988)
Super Inday

and the Golden Bibe

General Information
Type
Philippine Live Action
Years on Air
1988
Movies
1
Plot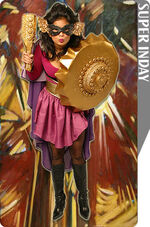 She transforms into Super Inday when she drinks and eats a fresh egg from a magical duck and shouts "Super Inday." She then becomes a super hero with the ability to fly and possess superhuman strength.
Super Inday and the Golden Bibe (2010)
Super Inday

and the Golden Bibe

General Information
Type
Philippine Live Action
Created by
Mike Tuviera
Years on Air
2010
Movies
1
Plot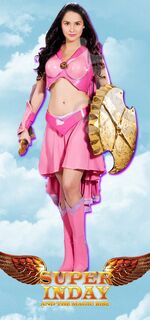 A fallen angel (John Lapus) and a demon child join forces to give a housemaid (Marian Rivera) superpowers in hopes of earning themselves a ticket to heaven should she be able to destroy the city's enemies.
Ad blocker interference detected!
Wikia is a free-to-use site that makes money from advertising. We have a modified experience for viewers using ad blockers

Wikia is not accessible if you've made further modifications. Remove the custom ad blocker rule(s) and the page will load as expected.