Super Best Friends Forever
General Information
Type
English Cartoon
Created by
DC Nation

Lauren Faust

Years on Air
2012
Episodes
5
Plot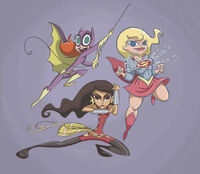 Series of shorts about
Wonder Girl
(voiced by Grey DeLisle), Batgirl (voiced by Tara Strong), and
Supergirl
(voiced by Nicole Sullivan) joining together as best friends to fight crime.
Episode List
1- "Invisible Joy Ride"
Airdate: March 17, 2012
Supergirl and Batgirl try to convince Wonder Girl to fly Wonder Woman's Invisible Jet.
2- "Time Waits for No Girl"
Airdate: April 7, 2012
After waiting for her father Commissioner Gordon to go to sleep, Batgirl hurries across the city to stop Poison Ivy.
3- "Grounded"
Airdate: April 28, 2012
Supergirl is grounded and Superman will make sure she stays in her room.
4- "Name Game"
Airdate: May 26, 2012
While battling the Cheetah, the girls debate if they should call their group the Super Best Friends Forever.
5- "Solomon Grundy Don't Fight Girls"
Airdate: September 29, 2012
When Solomon Grundy begins rampaging, the SBFF show up to stop him. Only, Grundy don't fight girls.
Ad blocker interference detected!
Wikia is a free-to-use site that makes money from advertising. We have a modified experience for viewers using ad blockers

Wikia is not accessible if you've made further modifications. Remove the custom ad blocker rule(s) and the page will load as expected.