Star Darlings
General Information
Type
English Cartoon
Created by
Disney
Years on Air
2015-2016
Episodes
12
Others
12 Shorts + 2 Specials
Plot
As far back as anyone can remember, Starlings have granted wishes for Earthlings. But when an evil force suddenly threatens Starland, twelve Star-Charmed girls are sent on the most magical adventures of their lives…as THE STAR DARLINGS! Our Starlings believe in making wishes from the heart, dreaming big and embracing your inner star, because anything is possible! Wish upon your Star!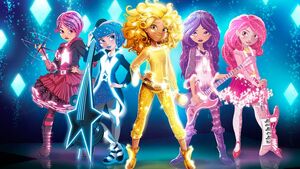 Ad blocker interference detected!
Wikia is a free-to-use site that makes money from advertising. We have a modified experience for viewers using ad blockers

Wikia is not accessible if you've made further modifications. Remove the custom ad blocker rule(s) and the page will load as expected.