Shoujo Tenshi Milcute
General Information
Type
Manga
Created by
Kikuta Michiyo
Years on Air
2005
Episodes
9 (2 Volumes)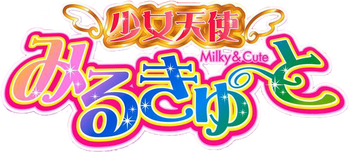 Japanese Title: 少女天使みるきゅーと
Plot
Miu Amano
owns a box that her father gave to her five years ago just before he left. Every year on her birthday, he sends her a postcard, but this year is different. This year he sends a present—a key that fits the box's lock perfectly. Inside the box is a small device that transforms into a tiny cat that calls itself "heaven's cat", Francois d'Mielle the third. He tells Miu that her father gave him an assignment—to turn Miu into an angel Shoujo Tenshi Milcute and save the world!
Ad blocker interference detected!
Wikia is a free-to-use site that makes money from advertising. We have a modified experience for viewers using ad blockers

Wikia is not accessible if you've made further modifications. Remove the custom ad blocker rule(s) and the page will load as expected.