Oshare Majo

Love and Berry: Shiawase no Mahou

General Information
Type
Anime
Created by
Tomomi Mochizuki
Years on Air
2007
Movies
1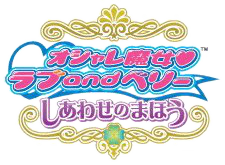 Japanese Title: オシャレ魔女 ラブ and ベリー しあわせのまほう
English Title: Fashionable Witches Love and Berry
Chinese Title: 時尚魔女 Love and Berry 幸福的魔法

Airdate: March 21, 2007
Plot
A movie based on the popular fashion card and arcade dance game aimed at young girls. The movie features Love and Berry. They are magical princesses who possess the power of "Fashion Magic," which allows them to change clothes instantaneously. Both girls love dressing up and dancing. Though they are friends, they are rivals when it comes to being the most noticeable girl on the dance floor.
Picture Gallery
Video Gallery
Ad blocker interference detected!
Wikia is a free-to-use site that makes money from advertising. We have a modified experience for viewers using ad blockers

Wikia is not accessible if you've made further modifications. Remove the custom ad blocker rule(s) and the page will load as expected.