Naisho no Otome Revolver
General Information
Type
Manga
Created by
Sorase Haruyuki
Years on Air
2010-2011
Episodes
6 (1 Volume)
ECCHI WARNING: This Magical Girl may contain nude scenes and some scenes may refer to sexual themes. The level of it depends on the Show. Be careful about this.

Japanese Title: ないしょの乙女リボルバー
English Title: Secret Maiden Revolver
Plot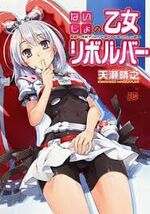 The story is about a High School student named Lihau Yuexiang/Tachibana who's goal is to be recognized as a manly man. The problem is that he looks exactly like a girl and is constantly bullied by his peers because of this. He is gifted the power to become a gunner princess fighter and hopes to use this newfound strength to prevent the bullying and finally become manly.
Ad blocker interference detected!
Wikia is a free-to-use site that makes money from advertising. We have a modified experience for viewers using ad blockers

Wikia is not accessible if you've made further modifications. Remove the custom ad blocker rule(s) and the page will load as expected.