Miracle Shoujo Limit-chan
General Information
Type
Anime
Created by
Takeshi Tamiya

Masayuki Akehi

Years on Air
1973-1974
Episodes
25
Japanese Title: ミラクル少女リミットちゃん
English Title: Miracle Girl Limit-chan
Italian Title: Cybernella
Plot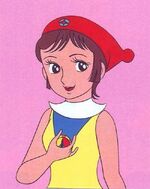 As a result of a traffic accident, Limit-chan is reborn as a cyborg and is given three types of supernatural powers. However, there is a catch: if she uses too much of them, her life will come to an end. Although the anime was unpopular in Japan, it was very popular in Italy under the title "Cybernella".
Video Gallery
Opening and Ending
Transformations
Ad blocker interference detected!
Wikia is a free-to-use site that makes money from advertising. We have a modified experience for viewers using ad blockers

Wikia is not accessible if you've made further modifications. Remove the custom ad blocker rule(s) and the page will load as expected.