Mahou no Shiho-chan
General Information
Type
Anime
Created by
Minato Koio
Years on Air
1996-1997
Episodes
2
HENTAI WARNING: This Magical Girl Show contain lots of nude and explicit sex scenes, be careful and be sure that you have 18 years old to watch it.

Japanese Title: 魔法の詩保ちゃん
English Title: Magical Shiho-chan
Plot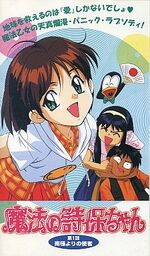 Once there was an ordinary girl. Shiho her name. And as it should be girls there in her first love. He is a scoundrel edakii, only mature women are interested, you see.
Fortunately, Shiho appears some cuteness of little animals and gives her the opportunity to transform itself. To save the world and this and that. Only transforamatsii a crash was, and adult version of Shiho, in which it may become, thinking now only one. And it does not matter what sex her opponent.
Episode List
1- "Nankyoku yori no Shisha" ("Messenger from the South Pole")
(南極よりの使者)
Airdate: July 28, 2000
2- "Natsu no Vacances" ("Summer Vacation")
(夏のバカンス)
Airdate: July 28, 2000
Ad blocker interference detected!
Wikia is a free-to-use site that makes money from advertising. We have a modified experience for viewers using ad blockers

Wikia is not accessible if you've made further modifications. Remove the custom ad blocker rule(s) and the page will load as expected.