Date A live
General Information
Type
Anime
Created by
Kōshi Tachibana

Tsunako

Years on Air
2013-2015
Seasons
2
Episodes
22
Movies
1
Others
2 OVAS
ECCHI WARNING: This Magical Girl may contain nude scenes and some scenes may refer to sexual themes. The level of it depends on the Show. Be careful about this.

Japanese Title: デート・ア・ライブ
Chinese Title: 約會大作戰
First Season: Date A Live
Plot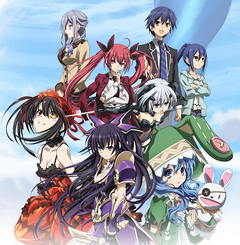 Thirty years before a strange phenomena called a "spacequake" devastated the center of Eurasia, claiming the lives of at least 150 million people. Since then, smaller spacequakes plague the world on a irregular basis. Shidō Itsuka, a seemingly ordinary high schooler comes across a mysterious girl at the ground zero of a spacequake and learns from his sister Kotori she is one of the "Spirits" who are the real cause of the spacequakes that occur when they manifest themselves in the world. He also learns that Kotori is the captain of the airship Ratatoskr and recruits him to make use of his mysterious ability to seal the Spirits' powers and stop them from being a threat to mankind. However, there is a catch: to seal a Spirit, he must make her fall in love with him.
OVA: Date A Live: "Date to Date"
Airdate: December 6, 2013
While Tohka experiments with the new cellphone she got from Kotori, Origami approaches Shido and demands a date with him. Unable to refuse, Shido is assisted by the Fraxinus crew to ensure that their date becomes a total failure but all his attempts to ditch her are futile. Meanwhile, while shopping for dinner, Tohka calls Shido at his phone and believing his words of rejection are to her, she falls into despair and her powers go haywire, until Shido runs after her to clear the misunderstanding. Some time later, Shido has a date in the arcade with Tohka and when he asks to take a picture with her, she refuses and enters the photo cabin by herself instead, giving him a picture of hers that she claims is for his eyes only. Back at the school, the other students accidentally see the picture that is revealed to be a naked photo of Tohka, as the only photo she ever took was during a medical examination and believed Shido wanted a similar one, much to his chagrin.
Second Season: Date A Live II
Plot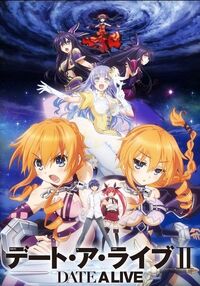 Shido Itsuka, who used to be a normal high school student at Raizen High, meets the first Spirit, Tohka, and awakens his power to "seal the Spirit's power". Though they may be feared and hated beings due to their immense power, Spirits were always alone and knew only combat and death. Shido, the only one in the world with the power to seal the Spirits' might, hurls himself into life-threatening dates with the beautiful Spirits in order to save them.
OVA: Date A Live: Encore
Airdate: December 8, 2014
The story is set on July 7th. "In the midst of the Tanabata festival celebrations, Shidou meets Kurumi, the worst Spirit. And the couple's destination is ...a wedding ceremony hall?!"
Movie: Date A Live: Mayuri Judgment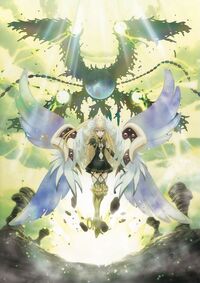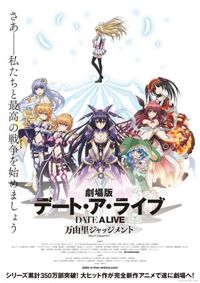 Airdate: August 22, 2015
Date War resumes. A huge sphere suddenly began to emit a mysterious spiritual wave to the Tengu City that should have regained its peace. A mysterious, beautiful girl showed up at the same time. Silently, what is her purpose to cast her line of sight to Shido and the others? The real purpose is?
Ad blocker interference detected!
Wikia is a free-to-use site that makes money from advertising. We have a modified experience for viewers using ad blockers

Wikia is not accessible if you've made further modifications. Remove the custom ad blocker rule(s) and the page will load as expected.