Carat!
General Information
Type
Manga
Created by
Watanabe

Yoshitomo

Years on Air
2007-2010
Episodes
13 (2 Volumes)
Japanese Title: からっと!
Plot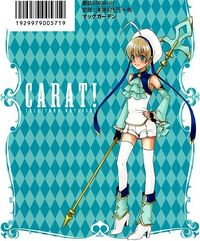 In the land of Carat, a battle for the queen's throne and the prince's hand in marriage is up and coming. Yuni and Melissa are chosen as candidates for the throne and until a winner is determined, the prince remains in a magical sleep. But what does this have to do with Baba Kanon, a simple ninth grader with thoughts of revolutionizing herself?
Ad blocker interference detected!
Wikia is a free-to-use site that makes money from advertising. We have a modified experience for viewers using ad blockers

Wikia is not accessible if you've made further modifications. Remove the custom ad blocker rule(s) and the page will load as expected.