Bayonetta: Bloody Fate
General Information
Type
Anime
Created by
Mizuki Sakakibara
Years on Air
2013
Movies
1
Japanese Title: ベヨネッタ ブラッディフェイト

Airdate: November 23, 2013
Plot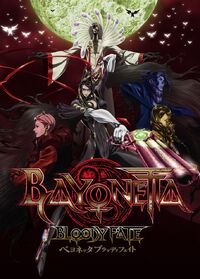 Bloody Fate follows the story of the witch Bayonetta, as she defeats the blood-thirsty Angels and tries to remember her past from before the time she awoke, 20 years ago. Along her side are a mysterious little girl who keeps calling her "Mummy", a journalist that holds a personal grudge against Bayonetta and a unknown white-haired woman who seems to know more than she is willing to reveal about Bayonetta's time before her sleep.
Ad blocker interference detected!
Wikia is a free-to-use site that makes money from advertising. We have a modified experience for viewers using ad blockers

Wikia is not accessible if you've made further modifications. Remove the custom ad blocker rule(s) and the page will load as expected.