Anyamaru Tantei Kiruminzuu
General Information
Type
Anime
Created by
Kaori Hanzawa
Years on Air
2009-2010
Episodes
50
Japanese Title: あにゃまる探偵 キルミンずぅ
English Title: Animal Detectives Kiruminzoo
Arabic Title: محققو الحيوانات
Chinese Title: 動物偵探奇魯米
Plot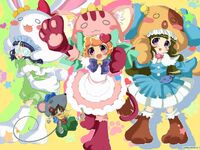 Riko and Rimu Mikogami are twin sisters who live in Kamihama, a Japanese city abundant with natural wonders. On an otherwise peaceful day, while searching for a run-away cat, the two come across a mysterious Kirumin compact in an attic. With the Kirumin, these character-costume-wearing girls can transform into real animals. Their older sister Nagisa Mikogami soon joins them. Now the three have cute, funny and sometimes dangerous adventures while solving a lot of mysteries they encounter.
Kawamori's theme for the anime is: "What if you can really transform into an animal?"
Picture Gallery
Ad blocker interference detected!
Wikia is a free-to-use site that makes money from advertising. We have a modified experience for viewers using ad blockers

Wikia is not accessible if you've made further modifications. Remove the custom ad blocker rule(s) and the page will load as expected.